You provide the manpower, we provide the rest! We even take care of the mess!
Our Self Serve Dog Wash offers 5 tubs in 3 different sizes. Built with Professional quality steel and rhino-lined for traction, these awesome tubs will safely hold any size dog — from the tiniest Chihuahua to the biggest Great Dane.  No more back strain and knee pain from washing the dog in your bathroom's "human" tub!  Tie-downs are included, with the dog facing right or left, so you don't have to worry about holding him in place, and you can easily wash both sides of the dog.
Everything you need to do the job is included: all-natural "Earthbath" shampoo and conditioner, tearless face soap (and a washcloth, of course!), a variety of brushes and combs, a shammy and towel, a high-velocity blow dryer and ear cleaner.
Self Serve Dog Wash Pricing
We have 3 different sized tubs available:
1 small dog tub for little dogs and puppies under 15#: $12
3 regular tubs for the majority of the dogs we see: $15
1 walk-in tub for BIG dogs or dogs who can't do stairs: $20
Additional Services Available
Nail Trim: $10
Nail Dremmeling (includes nail trim): $15
Gland Expression (external only): $10
Toothbrush with Paste (you do it): $1.50
Tooth brushing (we do it): $6.25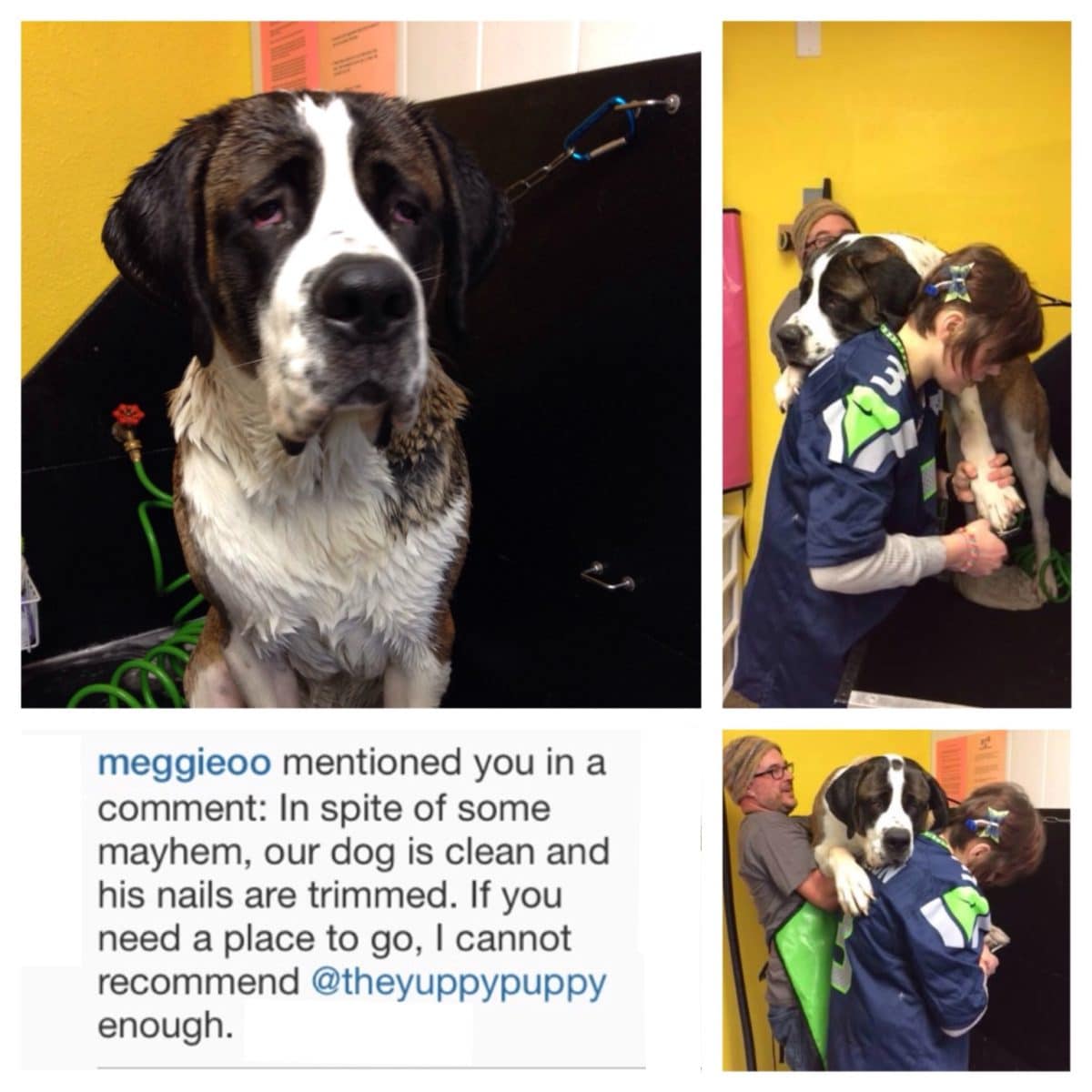 The last dog must be in the tub no later than 45 minutes before the store closes, NO EXCEPTIONS, unless you're Chuck Norris, because we're not about to tell Chuck Norris no.
DO NOT EVER LEAVE YOUR PETS UNATTENDED in our Self Serve Dog Wash Stations. This is a safety issue.
There are no time limits on our tubs so there are no reservations. Our tubs operate strictly on a first-come, first-served basis.
We do not provide any cutting tools or potentially injurious tools in the self serve. This includes scissors, nail trimmers, dremmel tools, etc.
There is no access to outlets in the self serve dog wash.
We have a small children's "entertain-mutt" area to keep your kids occupied while you wash the dog, we just ask you clean up after them.
All of the awesome brushes and supplies you use during your dog wash are available for sale in the store.
If you need help — JUST ASK, we're happy to help!
Contact Us
Northside Location:
(509) 467-8221
9511 N Newport Hwy
Spokane, WA 99218
STORE HOURS: M–F: 9am-7pm | Sat. 9am-6pm | Sun. 10am-5pm
DAY CARE HOURS: M-F 7am-7pm* | Sat. 9am-6pm* | Sun. CLOSED
*We do not take Day Care dogs after 1pm.
Downtown Location:
(509) 474-0394
830 W Sprague Ave.
Spokane, WA 99201
STORE HOURS: T–Sat: 10am-6pm