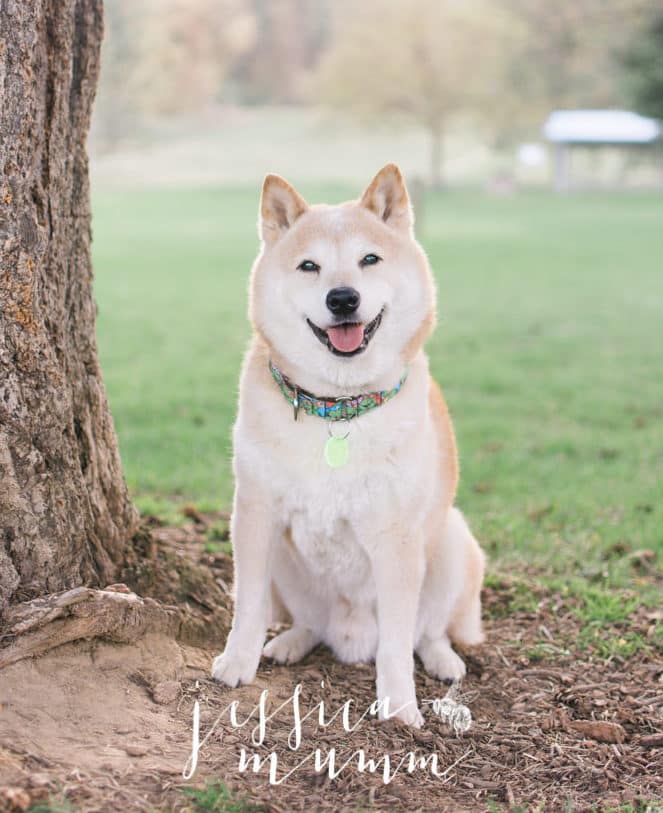 Breed: Shiba Inu
Birthday: March 17th, 2004
Nicknames: Max, Maxi, Maxine
The Story of DuraMax
DuraMax is the inspiration for The Yuppy Puppy. Our logo includes his adorable face and our name is actually the nickname our friends gave to Max when he was just a puppy. We went camping and baby Max refused to walk in the dirt and spent the entire weekend sitting in his own camping chair and being carried everywhere. One of our friends remarked: "That's the Yuppiest Puppy I've ever seen!"
Spokane has Max to thank for The Yuppy Puppy's existence. You see, Max developed food issues at just over a year old and with that, ended up with recurring skin issues that required regular medicated baths and recommendations for "Veterinary Allergy Diets"… Since washing the Diva-Dog in our bathtub and feeding him $100 bags of corn-based foods didn't appeal to us we decided there had to be another way: VOILA! The idea for The Yuppy Puppy was born!
10 years later, Max continues to come to work with us most of the time. He's had his share of ridiculous adventures that his Mom, Aquila will gladly tell you about all while Max glares at her from his bed behind the counter. He's and old, grumpy a$$h*le when it comes to being around other dogs these days but luckily he still loves people and KIDS, oh my how he loves kids.
He sleeps most of the time but will gladly go for a hike or ride in an ATV. He loves to accompany his parents to car shows, fireworks displays or anywhere else and has never had any issues with loud noises. Although these days that's mostly because he's about 70% deaf (and 30% choosing not to listen).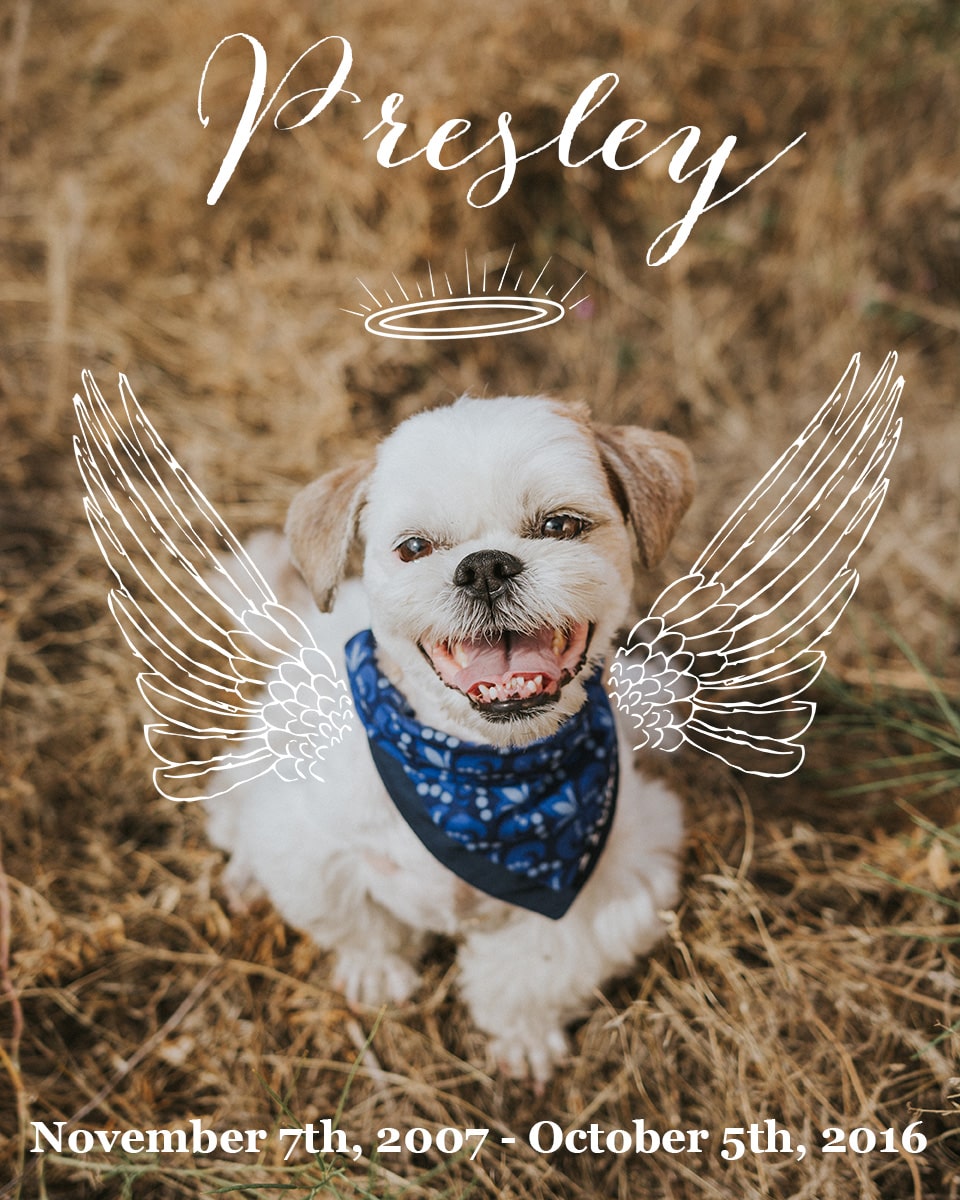 Breed: Shih Tzu and Lhasa Apso?
Birthday: November 7th, 2007
Nicknames: DePresley, Little P
The Story of Presley
Presley came to live with us in October of 2011 when his mom was battling cancer. When he arrived he had already been through a lot of passing around between family members, boarding facilities and back and forth to his home with his mom when she was well enough to be out of the hospital. All of this passing around took a toll on his confidence and by the time he arrived with us he was a shivering mass of sadness who we nicknamed "De-Presley."
In his first few months with us we discovered had a pretty bad heart murmur. Heart murmurs themselves aren't terribly uncommon in Shih Tzus, but to be so young (just barely 4 years old) and already have a grade III-IV heart murmur was a little concerning. After spending Christmas Day in the Pet Emergency Center getting his heart back in rhythm after a cardiac episode, we made a conscious effort to do whatever it took to keep him healthy for as long as possible.
Fast forward  year or so and you'd find him the confident front-desk greeter and creatively groomed customer-cuddler at The Yuppy Puppy. Loved by most everyone and tolerated by his brother DuraMax, Presley became a key element of the atmosphere of our store. He helped socialize puppies, test out new treats and toys, and make sure everyone who came to visit knew how to pet him according to his exceptionally high standards. Ultimately, he was a huge part of why people love to visit.
For 4 years we managed his condition with quality food and supplements for a strong immune system and heart health. Despite all this, in August 2015 he was diagnosed with late stage heart failure and given a 3 to 6 month expiration date. Now I for one don't believe in expiration dates for people or animals, so we immediately started a medicine protocol from our wonderful Veterinarian and friend Dr. Taylor at Garland Animal Clinic as well as adding acupuncture and acupressure visits with Dr. Asterino at Acupuncture for Pets. Dr. Asterino also helped us by recommending some additional supplements as well as herbs to help with Presley's heart and anxiety.
Presley persevered for nearly a year past his "expiration date" enjoying life with his extended family until the morning of October 5th, 2016. The day before had been fantastic with no indication that the end was near. He'd spent the day at the store hanging with many of his favorite dogs and people, went to see his friend Dr. Asterino for acupuncture and even got a Mexi-Fry from his friend at the Taco Time drive through. His last night here was a representation of his entire life: love and happiness.
There will always be a part of my heart in heaven with him and when I cross that bridge, I hope his silly, wiggly butt is the first thing I see.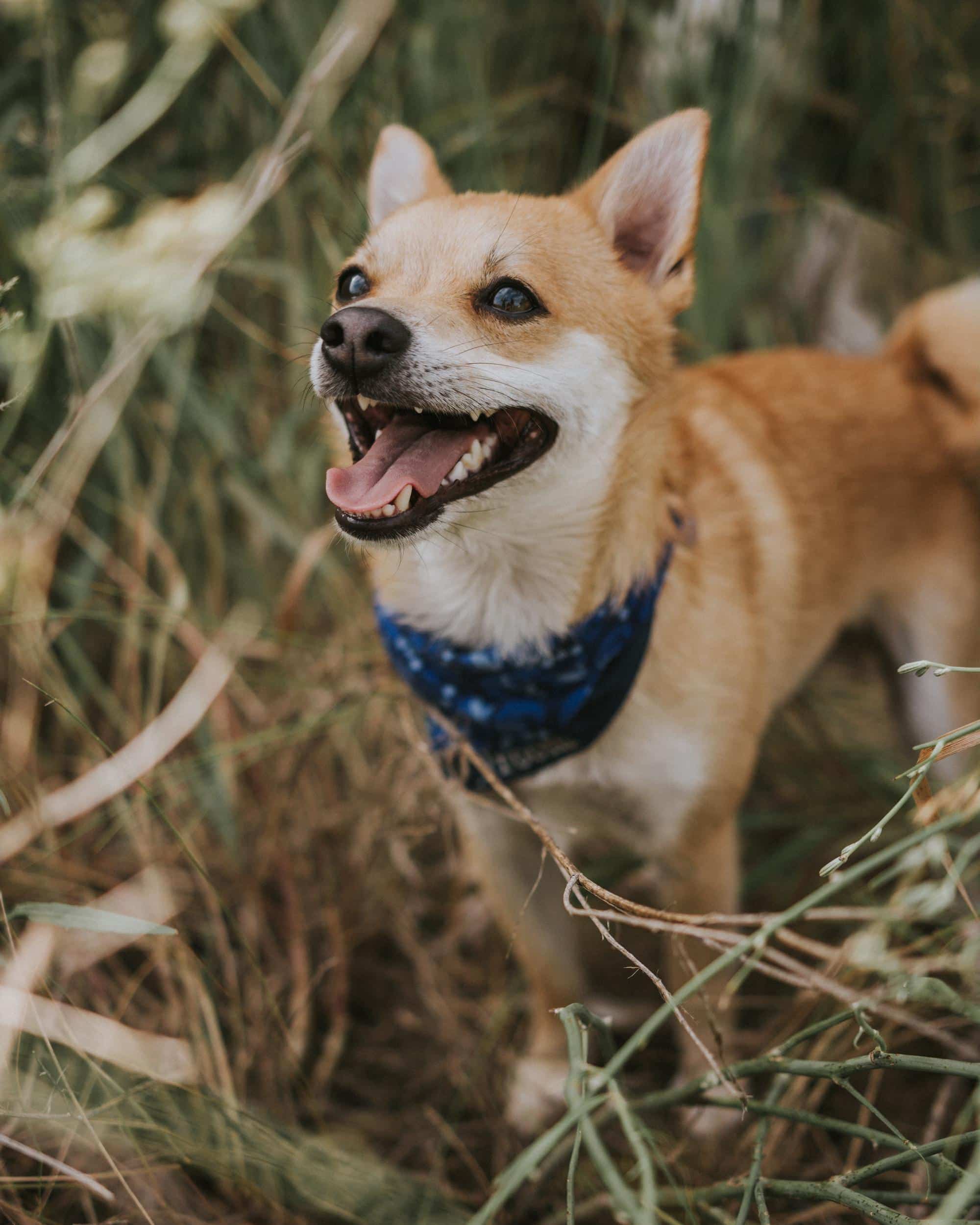 Breed: 66.25% Pomeranian, 32.75% Chihuahua
Birthday: July 28th, 2012?
Nicknames: Roo, Roodle (or Doodle or Noodle)
The Story of Vroom
Vroom was picked up as a stray in mid-January 2016. He had a broken leg and some cuts on his face so SCRAPS assumes he was hit by a car. He was transferred to the Spokane Humane Society where his broken leg was set, he was neutered and vaccinated and sent to a foster home.
Somewhere along the line, his owners found him but didn't take him home. Perhaps they couldn't afford his vet bills, or perhaps he was a naughty dog (he's a pretty naughty dog). The shelter was able to get a little bit of his history from his former family: They were his 3rd home. His first home had expected him to be smaller and rehomed him because he "got too big." We don't know anything about his 2nd home.
In early May of 2016, Vroom's leg was still broken (4 months after his accident). The Veterinarian at the shelter felt it would be best to amputate his leg. Naughty little Vroom had already burned his bridges with multiple foster homes and had spent some time in between back at the shelter. Jenna, Spokane Humane Society's Volunteer Coordinator, called and asked us if we could PLEASE foster this dog until his amputation.
Frankie agreed to foster him but it turns out I'm a giant sucker for a little tiny Shiba Inu mix who looks an awful lot like my DuraMax did as a young dog. Luckily, our Veterinarian is also a giant sucker and agreed to do surgery to repair and rehab Vroom's seriously messed up leg. 12 weeks later, his leg was healed and he was ready to go up for adoption!
Unluckily, DuraMax had decided that little Vroom was his best friend in the whole world!  Vroom and DuraMax are inseparable: They chase, they wrestle, they shed all over the house. They're annoying and adorable and I'm officially a foster failure.
In the short time Vroom has lived with us he has made great strides. He's getting better with strangers and he's barking less (oh my goodness, so much barking!) He absolutely LOVES his dad, wearing clothes, being carried in purses and chewing on his brother DuraMax. I'm pretty sure he WANTS to be a good dog and we're doing our best every day to help him get there.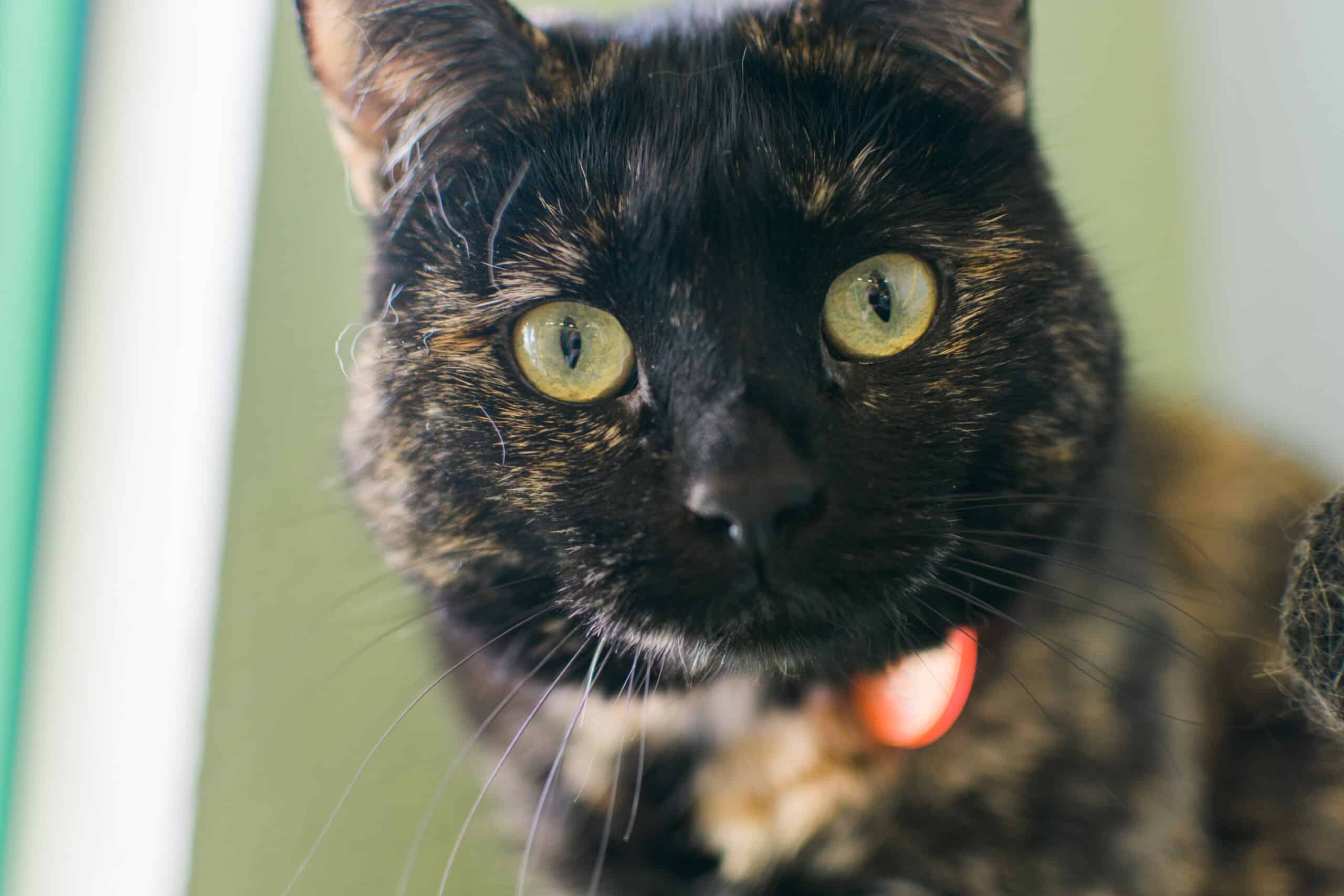 Breed: Domestic Short Hair Tortise-shell
Birthday: May 3rd, 2014?
Nicknames: Princess Gwen, Gwennie
The Story of Gwen
Princess Gwen was a Feral kitten born in the back yard of our current location. You see, some nice person in the neighborhood was concerned about the homeless cats in the area and set up a bunch of houses to keep them warm and dry. Unfortunately that lead to a community of cats who created a larger community of cats (if you get what I'm sayin…).
Gwen was the first of many kittens we've trapped and sterilized since our move to the new store. She tamed from a 3-pound ball of fury to our drooly little diva in a short period of time and now lives the life of Riley inside the store.
She spends her day sleeping among the food shelves in the store and is known to hop onto the shoulders of unsuspecting customers who walk by her without stopping to pet her. But watch out, she drools!