Our Daycare is Fun For All!
We have 2 separate playgroups based on activity levels of the dogs on site, not necessarily by their size. The high energy dogs play in the room known as the "Hockey Arena." It's called that because it's designed for high-energy, high-impact activity. Our second room is known as the "Ice Skating Rink." It's a lower-impact, slightly more graceful and controlled group of dogs who still want to be active but don't appreciate being smashed into a wall like their wilder counterparts in the "Hockey Arena."
Our play areas are 100% supervised AT ALL TIMES by multiple staff members and volunteers.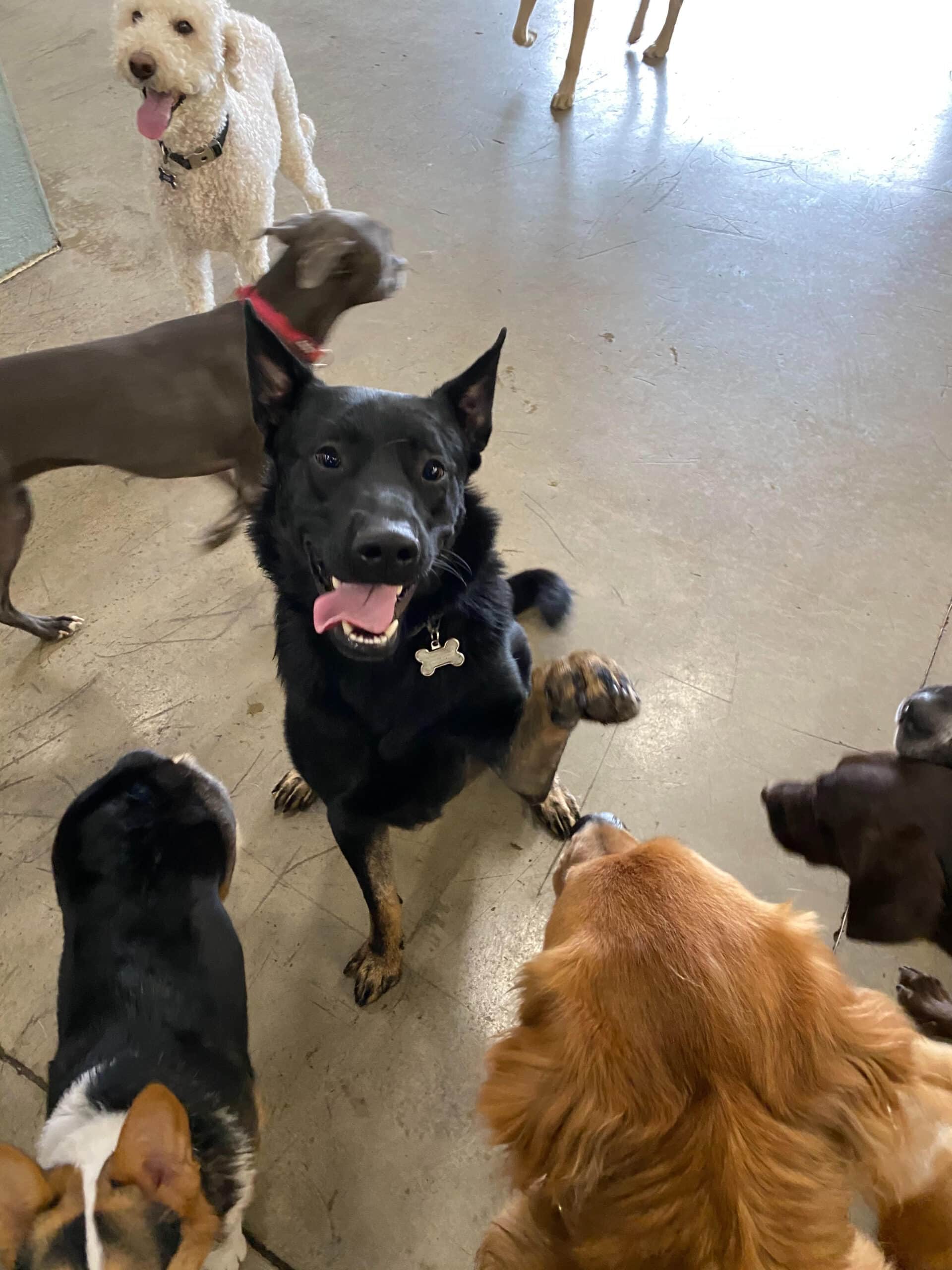 Monday through Friday
7 am –  7 pm
Daycare is CLOSED ON SATURDAY AND SUNDAYS for deep cleaning and maintenance.
Important Things to Know About Dog Day Care
Please read the requirements below. All dogs are required to comply with the items listed below! NO EXCEPTIONS.
Provide proof of current rabies vaccine (a dated certificate from your vet is ideal). We WILL NOT accept your dog's Rabies Tag as proof of current vaccination.

WE HIGHLY RECOMMEND your pet be current on their DHLPP and Kennel Cough vaccines (we do not require proof of these but it's definitely in your best interest to make sure your pet is current.)

Dogs must be spayed/neutered after age 9 months. Dogs under 9 months may retain their "parts". Dogs who come into heat before 9 months will not be allowed to return to daycare until they have been spayed.
Each dog must complete a 4 hour maximum assessment day in order to be considered for full-day day care.

Dogs must wear a buckle/snap collar with current ID tag. Absolutely NO martingale/choke/prong/training collars or harnesses.
Our play areas are 100% supervised AT ALL TIMES by multiple staff members.
We operate at a dog to people ratio of approximately 25:1.
Full Day
One dog (4 hours or more)
Full Day
additional dogs from same household
Half Day
One dog (4 hours or less)
Half Day
additional dogs from same household
Packages:
10 Day Pack
additional dogs from same household
Unlimited Monthly Pass
additional dogs from the same household
10-day packages are available at a 10% discount and packages do not expire for 6 months.
All daycare services are non-refundable and non-returnable.
Call or email us for pricing!
A Quick Note…
We ask that new customers please bring a completed Registration Form to your appointment. We appreciate your cooperation!
Day Care Policy
Evaluations: All dogs must pass a general assessment to attend Daycare. To qualify for a daycare eval dogs must be at least 4 months old and have been with their current owner for at least the last 30 days prior to attending daycare. I attest that in admitting my dog(s) to Daycare, I am representing that my dog(s) is/are in good health and have not harmed, shown aggression, or exhibited any threatening behavior towards any person or other dog. Any dog demonstrating aggression or other behavior deemed unacceptable by Daycare staff may be required to leave Daycare.
Additionally, if my dog(s) has not attended Daycare in 6 months or more, they will have to complete a new evaluation.
Collars and ID Tags: All dog must wear a buckle/snap collar with current ID tag. No martingale, choke/prong/training collars or harnesses allowed. If your dog doesn't have a name tag staff can make one and add the charge to your bill.

Vaccines and Illness: My dog(s) is/are currently healthy and will remain so at all times while attending Daycare. My dog(s) is/are current on their vaccinations. I am not knowingly enrolling any dog in Daycare that has any condition that could potentially jeopardize the health of other dogs or people and has not had any potentially communicable condition within 30 days prior to enrollment. I further understand that even if my dog(s) is/are vaccinated for Bordetella (Kennel Cough) there is a chance that my dog(s) can still contract Kennel Cough. I agree that I will NOT hold Daycare responsible if my dog(s) contracts Kennel Cough, parasites, or any other potentially communicable disease.
Spay/Neuter: All dogs are required to be spayed/neutered by age 9 months to enroll at Daycare. Intact Male dogs may continue to attend daycare up to 12 months of age on a case-by-case basis with a note from their vet on file and so long as their behavior remains appropriate. Intact Female dogs who come into heat prior to age 9 months may not attend daycare again until after they have been spayed.
Nail Trims: All dogs nails will be checked and trimmed by staff if deemed necessary. The $12 charge for this service will be added to your bill. You may request this service at drop off or during scheduling as well. (Price subject to change)
Liability: I attest that I am the legal owner of this dog. I assume all risks, dangers, and I am solely responsibility for all injuries to the named dogs. I agree that neither Daycare nor any of its employees, staff or volunteers, will be liable for any illness, injury, death, and /or escape of my dog(s) provided that reasonable care and precautions are followed, and I hereby release all of them of any liability of any kind whatsoever arising from or as a result of my dog(s) attending or participating at Daycare.
On-Site Illness, Behavior and Health Incidents: I agree that any illness, behavioral or physical health problems that develop with my dog(s) while at Daycare will be handled and treated as deemed best by the employees, staff, and volunteers of Daycare, in their sole discretion, and I expressly agree to assume full financial responsibility for any and all expenses arising or relating thereto. This includes aggressive or destructive behavior.

Injuries: By enrolling my dog(s) in Daycare, I represent that I am the dogs' legal owner and I assume all risks, dangers and responsibility for injuries to my dog(s). I understand that during normal dog play, my dog(s) may sustain injuries. All dog play is monitored by Daycare Attendants to avoid injury; but scratches, punctures, torn ligaments, and other injuries may occur despite the best supervision. I understand and agree that I solely am financially responsible for any injuries to my dog(s) while they are attending Daycare.
Late Pick Up: Dogs not picked up by the end of the Daycare regular business day, will be charged a $1 per minute, per dog fee. I expressly authorize Daycare to take whatever action is deemed necessary for the continuing care of my dog(s) and agree and agree to pay to Daycare all costs of continuing such care upon demand by Daycare. Further, I understand that if I do not pick up my dog(s) as scheduled, Daycare shall be authorized to proceed according to the local municipal code governing abandonment of animals.
Payment: Fees are due and payable at the end of each day prior to removing your dog(s) from Daycare. Discounted packages are provided only if they are paid for in advance. All pre-paid services or packages are nonrefundable, nonreturnable, and nontransferable and expire 6 months from the date of purchase.

Right to Refuse Services: Daycare reserves the right to refuse admittance to any dog or to dismiss any dog that does not meet the health, temperament or other Daycare standards. The determination shall be made at the sole discretion of Daycare.
I agree to terms listed on the website and forms.
Our Day Care Friends Love It Here!
Our Customers Love Dog Day Care!
"The staff here are amazing. I was so nervous taking my Great Dane/Mastiff to daycare the first time, now he goes a few times a week and loves it! Highly recommend Yuppy Puppy!"
"Yuppy Puppy was the answer to socializing our dog beyond our busy schedule. Our dog Quinn comes home relaxed and more enjoyable even after the half days she plays with her new friends. Yuppy Puppy staff is always friendly and courteous!"
"My dogs Happy Place! Aquila and her staff are so friendly and knowledgeable. I feel very good when I'm at work, knowing my dog is being well cared for!"